Whatcom Theater Events
Bellingham and Whatcom County's resource for theater information
Auditions
Godspell - May 4 - May 21, 2017
Auditions Feb. 27, 28, Mar. 1
Directed by Shawn Fuller
Claire vg Thomas Theater - Lynden
Claire Auditions

I Hate Hamlet - Mar 31 - Apr 16, 2017
Auditions Feb. 5-7
Directed by Deb Currier
Bellingham Theater Guild
BTG Auditions

Idiom Theater
Idiom Auditions

Mount Baker Theater
Mount Baker Theater Auditions

The Upfront Theater
Join the Upfront Team



Reviews
A Shayna Maidel - by Barbara Lebow, Directed by Dee Dee O'Connor

A Shayna Maidel
is a story of the undying love of the human spirit amid the turmoil and chaos of the aftermath of the Second World War. Rose Weiss is the "Shayna Maidel", Yiddish for 'pretty girl' torn between two cultures, suddenly thrust into a world that was never truly her own. Struggling to balance being American with family tradition, she must now confront a father bound by duty, honor, and faith, and a sister she knows only from stories and photographs.
The stage is set with a rake, giving the audience a rare and poetic opportunity to experience the most engaging scenes in a depth seldom seen on the BTG stage. The extraordinary set is a tribute to the incredible set construction team, who paid extraordinary attention to every conceivable detail, including a stage painted to look like a wooden floor which serves to add to the illusion and majesty of the mosaic while brightening the venue for an untypical level of visual appeal. There is nothing about the props or set that make you question the period of the play. Lost in the late 40's, even the radio comes to light and life on cue.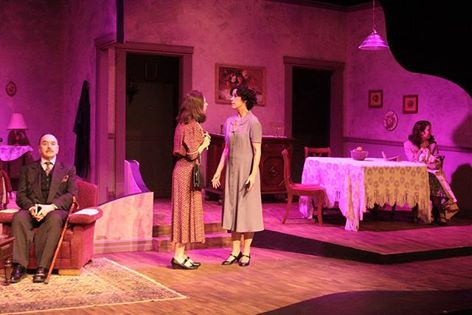 When you can take your eyes from the elegance of the set it's easy to get lost in the stunning costumes, breathtaking and perfect for the story but not distracting in any way.
Genny Cohn
is at her best and has once again shown us why she is the "go-to" costumer in our community with her eye for detail and ability to amaze.
Light and sound can either make or destroy an otherwise good show. In this instance, the former applies. Exquisite use of color and sound provide hauntingly surrealistic scenes that bridge the gap between reality and dreams. At times, you almost believe the veil between worlds is truly lifted and one can glimpse the other side, if only to be pulled back again at just the right moment in time.
Regular theatergoers will notice the seamless and perfectly timed transitions which not only provide the show a fluid pace but perfect pauses in the moments to suggest the passage of time. In a story so bound by the need for continuity, nothing is lost in the darkness and the audience never leaves the edge of their seats.
The role of the conflicted Rose is aptly brought to life by BTG newcomer,
Kennedy Rainer
who finds the perfect balance as an actress to give the performance a sense of constant tension and mystery. She is able to project the depths of inner conflict with aplomb fitting a performer of many more years.
A familiar face,
Robert Muzzy
, brings Mordechai to life with his characteristic prowess showing once again why he is a favorite theater staple and a true treasure in our community. It's utterly inconceivable to see anyone else delivering this powerful performance that provides the anchor for the story and the frame to the artful  and picturesque setting. Seldom do performers have an opportunity to share so much of their soul as Robert does in this compelling oral nocturne fit for Thespis himself.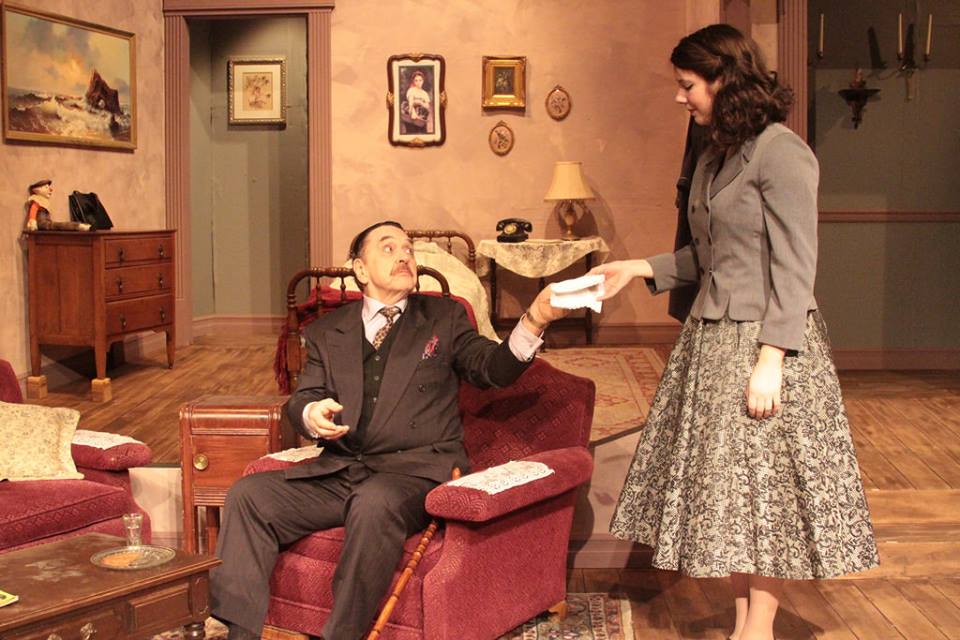 Luisa is the sister who has finally come to America.
Natasha McPhaden
has given a performance that can only be described as brilliant! Utterly mesmerizing, she completely owns every scene she is in. Her stage presence is natural and sublime. Natasha delivers a performance that makes you forget she is actually an American, and not a Polish immigrant. Few actors are as poised through the veneer of a character role and an accent.
Susan Duncan
appears on stage for a pleasant treat as the late mother in a performance that is poised and confident. Not surprising from a veteran performer.
Alex Farkas
is ambrosial as Hanna, a childhood friend of Lusia who appears in fantasy scenes. Her charm on stage is matched only by her ability to dig deeper and share a stalwart love that makes the feelings of loss so much more real.
Brendan Francis
is the reappearing love of Lusia's life and husband, Duvid. Brendan's stage acumen is without question as he fades in and out of scenes for moments of gentleness, hope, and perspicuity. Profoundly elegant, it's easy to see Clark Gable pine for such a role. Brendan's keen sense of the moment and sagacious delivery are the laces that keep the love story afoot.
Theatergoers of all ages will find this story truly compelling and beautifully told by an extraordinary collection of performers. It would be a true tragedy to let this one go by without seeing it and yes, this hardened critic cried.
Many bravos to director,
Dee Dee O'Connor
, who has given this compelling script her own soul and skill in her directorial debut. Hopefully we see much more from her in the future.
review by - david bolden
A Shayna Maidel runs from Jan 27-Feb 12 at Bellingham Theater Guild
Bellingham Theater Guild
Spotlight Performer

Meet Kennedy Rainer, our spotlight performer of the month. Well on her way to a Tony Award, Kennedy can usually be found tearing up the dance floors around the sleepy town of Nooksack.
A Shayna Maidel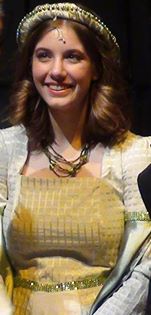 Stay tuned for more!